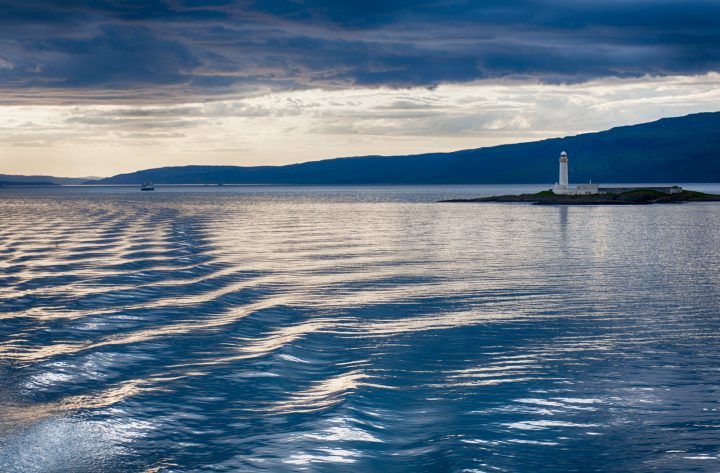 There's a few lovely little nuggets related to this picture and area. The Lismore lighthouse itself was built by Robert Stevenson (Grandfather to Robert Louis Stevenson) in 1833. The lighthouse island is called Eilean Musdile. It's actually two islands and there is a handsome bridge joining them. The bridge has probably only been used by a handful of people. There seems to be two walled fields on the island, maybe for livestock in the old days. There are two cottages on the island. Near it is a skerry, a tiny rock that is submerged at high tide. It now has a funny looking beacon/lighthouse on it. It's called Lady's Rock.
Lady's Rock
In 1527, Lachlan Maclean of Duart (Duart's Castle is nearby on Mull – which I visited – and met the fine fellow in the picture below) wanted to murder his wife, Lady Catherine Campbell (for reasons I have yet discern). He rowed her out to the rock and left her on it – expecting her to drown at high tide. She was saved after some yelling, that nearby fishermen heard. She retreated to her family home to recover from the ordeal.
Meanwhile, Maclean looked out to the rock and seeing no-one on it, sent a missive to her family offering condolences for her demise. In turn, they invited him to dinner in her honour. He turned up with a coffin. When he entered the hall, to his horror, she was sat at the head of the table. He survived the meal, but some time later her brother killed him.