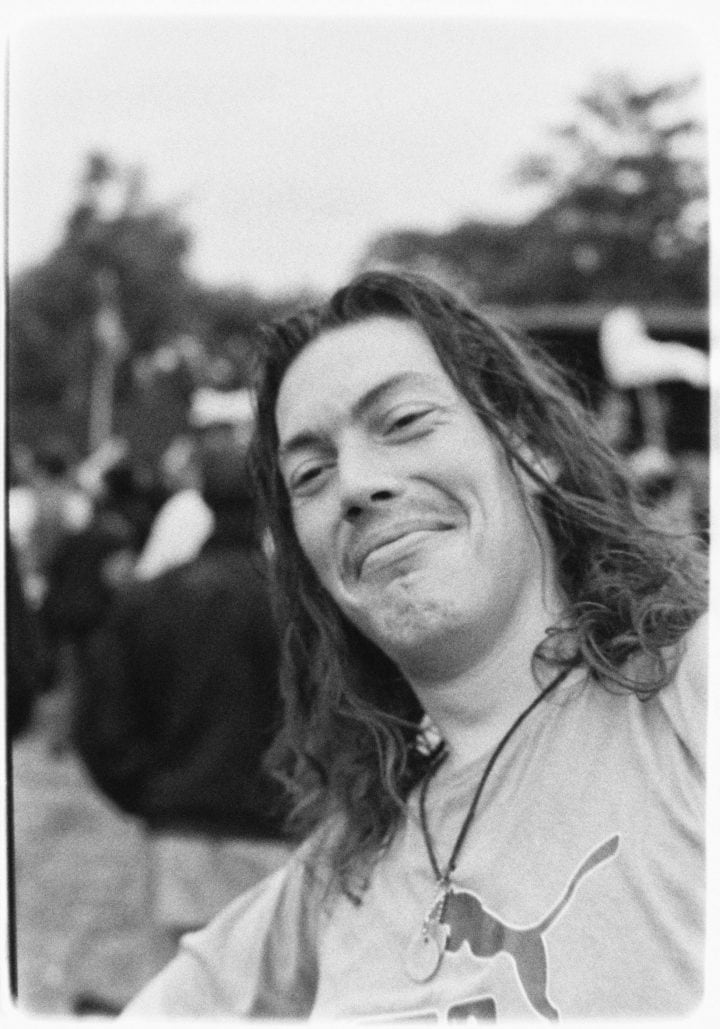 Steve Cragg RIP. Liverpool Legend. B: 1970 D: 2015
I can't remember his exact birthday now. It was not long before or after Jimi Hendrix died. A fact Cragg never assumed was coincidental.
We met on the steps of the bombed out church at the top of Bold Street about Summer 1988. He was with a girl and we shared a spliff. We hung out of the next two days solidly, going to clubs, pubs, parties and bars. No idea what happened to the girl. I think she went home.
At the time, Cragg lived in the Hot Pot Café in Old Swan. It was abandoned and had a faded Pepsi sign on the front. A kick of the jukebox would crank Suzi Quattro to life. A climb of the ladder revealed a first floor den of debris.
We went to nightclubs like Planet X and Krazy House and brought girls back. We never paid into anywhere. Cragg had this way of breezing in doors and he'd just say "He's with me", waving a thumb over his shoulder in my general direction. To be fair, we looked the part, both in leather biker jackets, him in snakeskin cowboy boots and huge hair, and me with a mohican in whatever colour and 11 hole DMs.
One biting winter, I went down the ladder and out the back to the outside toilet. There was a snow flurry up to the bowl. I sat on it shivering.
"Where's the toilet door, Cragg?", I asked on my return up the ladder.
"Went on the fire", Cragg said.
The next time I came to Liverpool and visited. We had been out, met some girls in a club and headed back to the Hot Pot Café. It had by then been condemned and his days there were numbered. He was using the backroom fireplace as a urinal. The only electricity was in the one room. I stepped into the back room in the dark and promptly crashed through the floor, stopping only because my bollocks said hello to a joist very hard. My legs had punched through the plasterboard ceiling into the café and I was wedged on a beam in agony. "Nafe!", Cragg called, "Watch the boards!"
Cragg had been burning all loose wood in the building to keep warm in that derelict building. Last resort was burning every other floorboard in the back room.
Later he lived in Little Parkfield, off Lark Lane. The place was still just a mess of junk, dominated by the stereo. We were always playing music. It was a constant.
Cragg often had some kind of injury. He smashed his pelvis twice and couldn't sit on a toilet seat for six months. I saw his medical file once and read as much of it as I could. It was a weighty tome.
Once he was skanking to dub reggae on a paving slab placed on a chimney stack. The paving slab shifted and he fell five floors, on his back spreadeagled through a tree that broke his fall. He got up and everyone was asking if he was OK. He laid on a sofa and slept nearly 24 hours. On waking, he coughed up blood and an ambulance was called. He had a punctured lung, two fractured vertebrae and a cracked pelvis.
The first time he fractured his pelvis, he was sat in a first floor window, fell out backwards and landed in a basement. I laughed at this and said he was really unlucky. He said earnestly, "No it wasn't, I missed the spiked railings on the way down".
In the days before mobile phones and email, I used to come up to Liverpool and always find Cragg somewhere. We always just had the knack of finding one another somewhere in town or club or bar. "Alright Nafe", he'd say even after months of not seeing each other, and off we'd go on an adventure.
One of the last times I saw him, he was living in the front room of the Ivanhoe Road/Little Parkfield House. His living room was madder than ever. The entire room was dominated by a huge pile of bricks. The chimney had collapsed inwards and invited itself into his house. I went to make a cup of tea, but there was a fish in the washing up bowl. The fish tank had got smashed and he'd saved one of the fish.
I was going to look in on him, having not been to Liverpool for nearly three years–the easily the longest duration away since I was a child. It was going to be a chance visit as I'd bought tickets to a Linda Perhacs gig and accidentally bought Liverpool, not London ones. I wasn't bothered and was actually happy to be going to the going there. "I'll go and find Cragg", I thought to myself.
As it turned out, Linda Perhacs had a riding injury and fractured her collar bone. The gig was cancelled indefinitely. I didn't go to Liverpool at that time and a few months later, a random post on Facebook mentioned an ambulance outside his house, by now living on Hartington Road and that he'd died.
This photo was taken about Summer 1991–4 (I can't be more accurate right now!). I think it is a music festival in Princes Park, but could possibly be Sefton Park also.
Cragg's social scene was wide, disparate and not always interconnected. If you want to share a story or memory of him here, it'd be great to hear from other people that knew him in the comments bit below.